Greenwich General Remodeling Services, including all types of home additions or home repair projects. Broadbent Construction is owned by Paul Broadbent. Who was born and raised in Greenwich,CT. They are honest and reliable with more than 27 years in home remodeling and repairs throughout the towns of Fairfield County, CT. Free consultation for larger projects with budget projections. For larger renovations we give an evaluation of the property with the client's design/concept and elements in mind, followed by a detailed proposal, with cost analysis. All types of home improvements and repairs. No job is small for us… Our local presence helps us understand the approval processes and various town regulations.


Broadbent Construction Ea
rns Esteemed 2016 Angie's List Super Service Award
Broadbent Construction has earned the home service industry's coveted Angie's List Super Service Award, reflecting an exemplary year of customer service to members of the local services marketplace and consumer review site in 2016.
This achievement is a particularly significant as Angie's List experienced unprecedented member growth in 2016. More than 1.6 million consumers, many of whom were eager to quickly hire highly qualified service pros, joined Angie's List after the company added a new, free membership tier.
Here are renovation tips to think about when considering a construction project.

Try To Establish a Budget For Your Project;
In fact, you may want to do this first. Only you know what you have(or want) to spend on renovating your house. Tell your designer or contractor the amount of your budget. Don't make them guess. Many people (particularly homeowners) are reluctant to tell their contractor or architect that figure. Despite their experience, it does little good if the project is either over budget or under designed and if there is enough money for what you may have in mind. A contractor can help keep the costs down also, as he is the one in the field. It only serves to create confusion and frustration, add costs, and to delay the project if the contractors are left guessing. To ensure that the contractor's and sub-contractors work is in compliance with the construction drawings (i.e. Contract documents and general specifications) for expected performance requirements. Unlike a design/build firm, Architects and contractors generally have no financial ties to specific brands or manufacturers and installers: ( i.e. Their profit margin is not tied to the cost of, say, one brand of windows versus another). This enables a contractor to recommend products and systems, which are likely to better address, your needs, aesthetic requirements and budget.
Be cautious of taking the lowest bid:
Contrary to some beliefs, the lowest bid does not guarantee that you are dealing with the most honest or efficient builder. Low bids may be an indication of a contractor omitting (through error or inexperience) necessary steps, time and/or resources to complete a task or set of tasks properly. If you receive 3-5 bids for work, and most of the bids are within the same price, yet one is significantly lower, this may be an indication that the low bidder has indeed made a mistake or error (in assessing the project requirements) While, contractually, the bidder may be required to complete the work for the amount stated (in the bid). If such an error is made before the project has even started, why would one place confidence in the same bidder ( contractor) to complete the project error free? Such a contractor has a motive to look for ways to cut corners (as a means of recouping his loss) on the project at your expense. Take a look in the sections below in the drop down menu on this website to see the areas of Broadbent Construction's building expertise.
Work with EPA lead Safe Certified Renovation Contractors: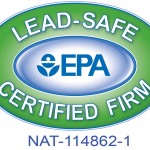 "New federal EPA rules effective 4/11/10 mandate that significant contracted painting and carpentry work on your home must be done by EPA Lead-Safe Certified Firms. Broadbent Construction, Inc. is a leader in compliance with new EPA mandated LEAD-SAFE work practices. We can test for lead and design and implement EPA LEAD-SAFE work procedures for your interior and exterior remodeling projects. All pre-1978 homes must comply with these EPA regulations." Our Certification license number is attached to the logo below. We can handle any lead safe renovation in Greenwich, CT and the surrounding towns of Fairfield County.
Contact us for consultation and a free quote.