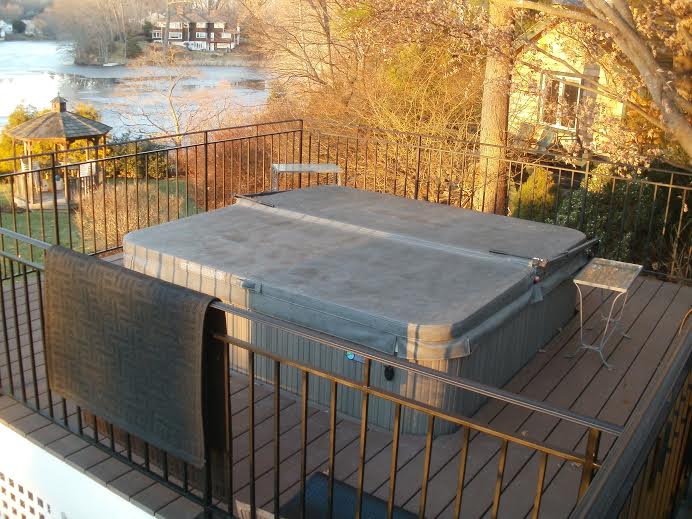 Broadbent Construction specializes in almost any home remodeling project whether it be kitchens, bathrooms, basement/garage conversions, but one of their true passions as woodworking craftsmen is repairing, designing and constructing custom wood decks, composite decks, porches, and all kinds of patio enclosures like sunrooms, screen rooms and screened porches. Another one of our specialties is helping homeowners that currently have conventional screen porches by converting and transforming them into full three season rooms so they can be enjoyed during the winter season comfortably.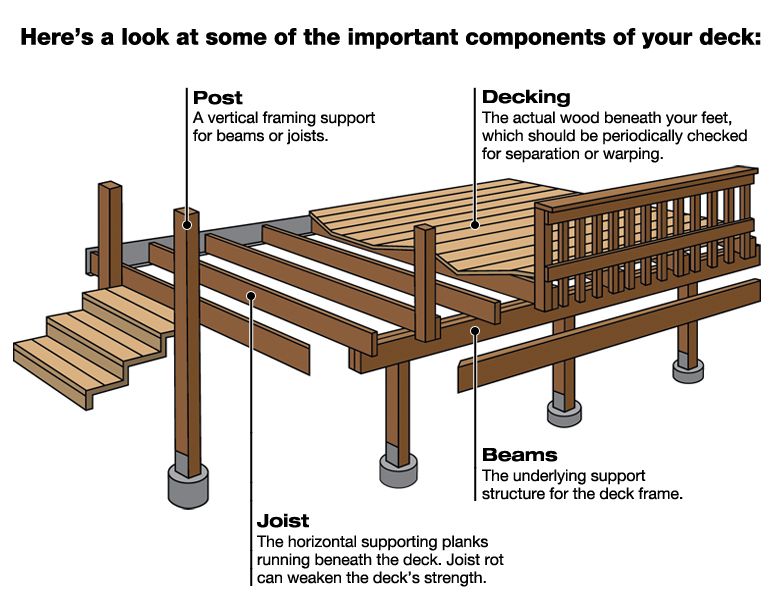 Outdoor living structures helps us feel connected to nature.  
Adding a patio, porch or deck to your property provides your loved ones with extra space to enjoy the the outdoors and breathtaking views.  These types of converted spaces provide families a place to get together, throw a party, cool down and enjoy priceless moments.  We cater to the needs of most Fairfield County, CT residents in all towns and cities including, but not limited to, Greenwich, Stamford, Darien, New Canaan, Wilton, Norwalk and Trumbull.
Here are three of our latest deck and sunroom renovation case study projects with some of our wonderful Greenwich clients.       
#1 Outdoor Deck with Hot Tub and All Season Sun Room
In Riverside,  One of our lifelong clients owns a magnificent waterfront property on the Mianus River.  We have made several renovations to this home over the past few years. In this article, we would like to highlight the full season sunroom used for dining and entertaining, which leads to the deck as well as the awesome hot tub.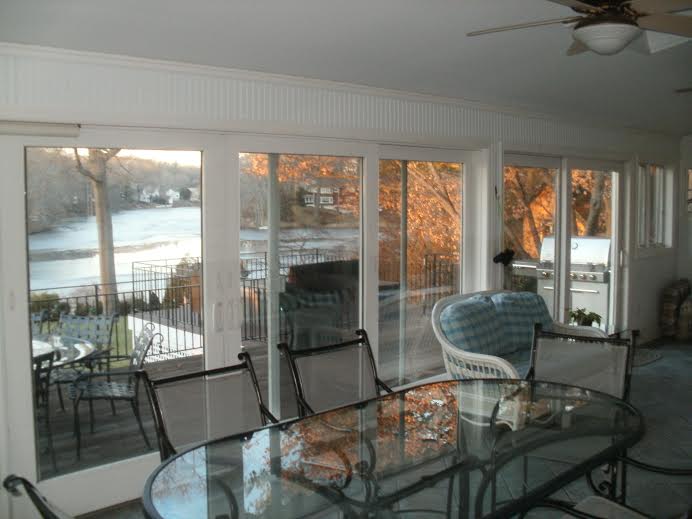 This sunroom has several 8 foot sliding glass doors which allows them to enjoy their room every day of the year whether it's a hot, summer day or a freezing, cold winter day.  This room has the capability of being heated.  The ceramic tile was chosen over wood flooring because it's a transitional indoor/outdoor room to the kitchen and rest of the home.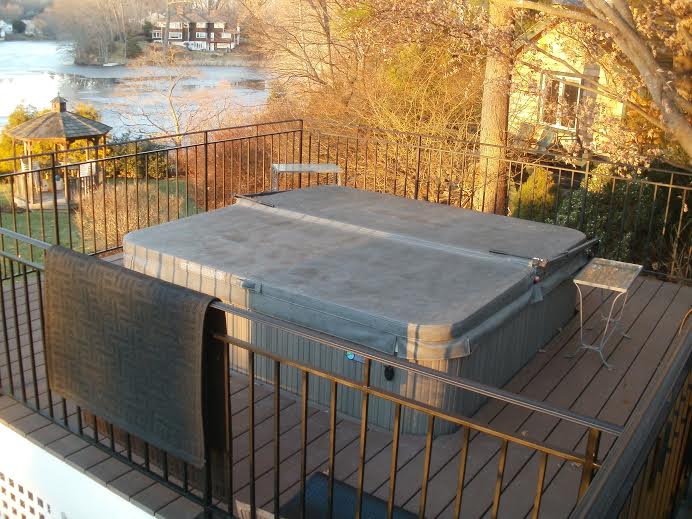 Above is an image of the 12 foot by 30 foot deck in mahogany with a 14' by 14' ft extension added for a hot tub which is sunk down into the deck for a convenient entry.  The decking around the hot tub was built using a composite decking material instead of standard mahogany wood because of the increase in moisture around the jacuzzi area, thus the composite is more water and slip resistant than wood.   
#2 Outdoor Deck with Railing  
One of our great friends and customers owns a multi-million dollar home located off of the prestigious Indian Head Road.  Our client wanted a composite deck built in the back part of their home to enjoy the peace and tranquility of the greenery around their beautiful home.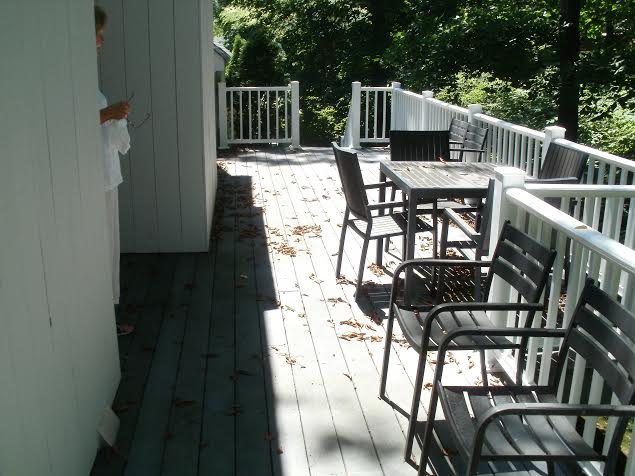 We constructed a 10' by 40' Azek composite deck and railing system. To enjoy a space of unusable ground which their lawn is not flat at all (steeply sloped) this was the perfect solution.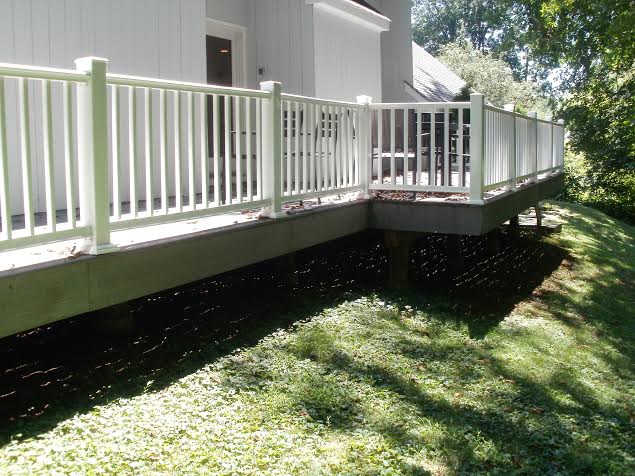 This was not an easy project but when it was finished as you can see our client was very pleased with the final product. This deck gets use and enjoyment at anytime in the day whether it is breathing fresh air and drinking coffee in the morning or having a family get together for an evening barbecue, these times are treasured.  
#3  Low Level Deck Replacement
This last case study is located off of Verona Dr. in the heart of Riverside. This client contacted us through linkedin because their back deck was made out of a wood material call Port Orford cedar ( from Port Orford, Oregon) and it was rotting.   We also installed new Andersen sliding glass doors to let light and ease of access out to the deck area.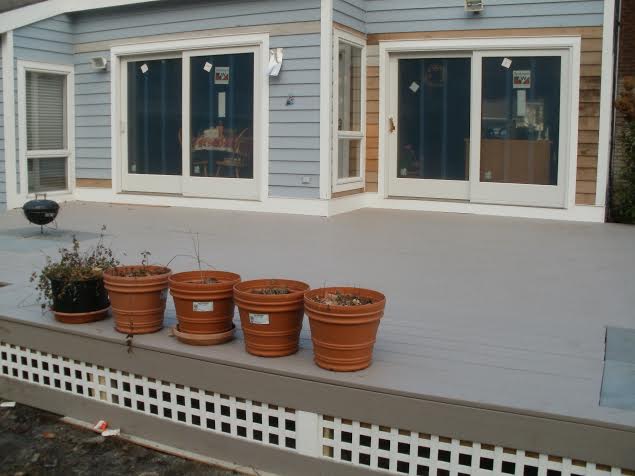 We came in replaced the whole decking with Azek composite decking, and we added additional bonus feature incorporating it into deck itself.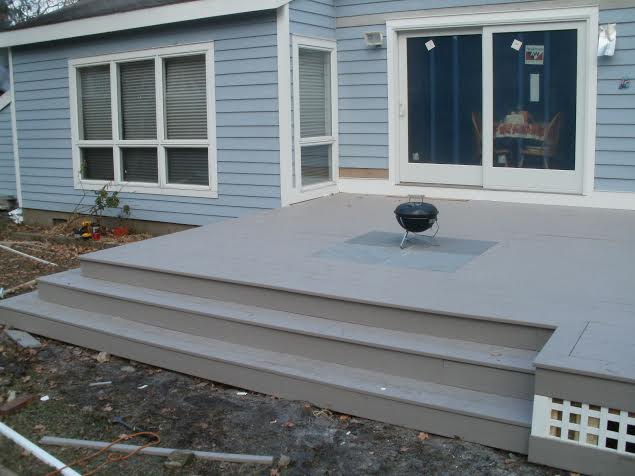 If look in the middle of the picture you will notice a 4' by 4' section of flag stone that was set up to prevent damage from flames or burning embers from accidentally falling out if they were to place their barbeque grill or fire pit in that space.   
We have been awarded with an AZEK Deck Builder certification. Which makes Broadbent Construction the official Azek deck builder for Greenwich CT. 
Our Deck / Porch Construction and Renovation Services Include
Broadbent Construction business mission has remained the same in the past twenty years: we want to work together with new and existing clients to make their homes more beautiful and comfortable. We work with your budget. We always strive to produce a customized and unique product.  Our services include but are not limited to:
Building a New Deck, Porch, Patio or Balcony

Remodeling or Replacing an Existing Deck Porch, Patio or Balcony

Adding a Sunroom, Screened Porch or Covered Porch

Creating Shaded Areas with Gazebos and Awnings

Designing an Outdoor Kitchen

Creating a Design Plan for More Outdoor Space
Broadbent Construction is a full service residential deck and patio contractor located Greenwich, CT.  We listen to you, ask you important questions and then share our years of expertise and craftsmanship skills with you so you have the perfect deck.  Request a consultation and estimate for your new project by calling us at 203-253-4518 or simply complete our online form.