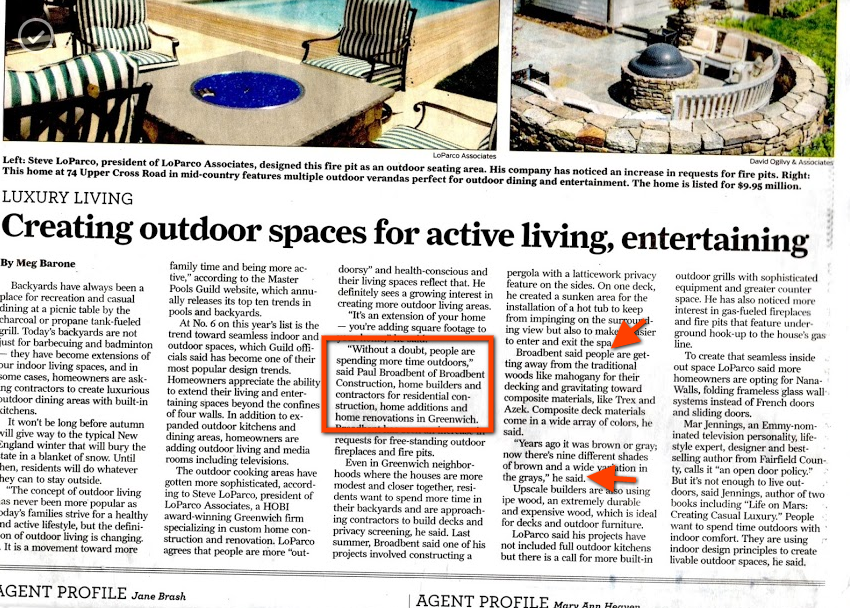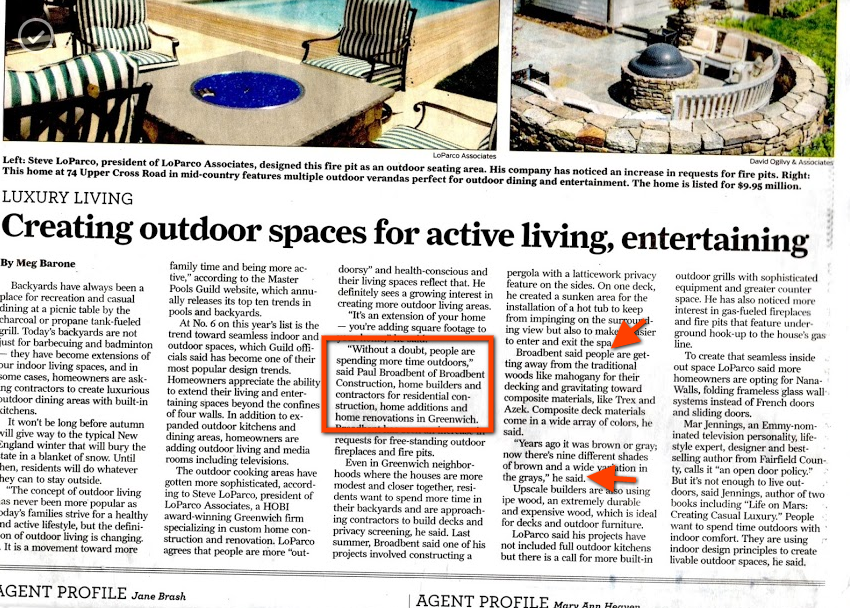 Broadbent Construction was featured in September 25th, Friday print edition in the Real Estate section of The Greenwich Time by journalist Meg Barone, who was researching a story about how there is a trend in upscale residences transforming their backyards into outdoor living spaces. So she contacted and interviewed Paul Broadbent, for his substantial expertise in deck building and remodeling.  Backyards are not just for barbecuing and badminton anymore, they have become extensions of people's indoor living spaces, with some residences asking contractors to create outdoor dining areas.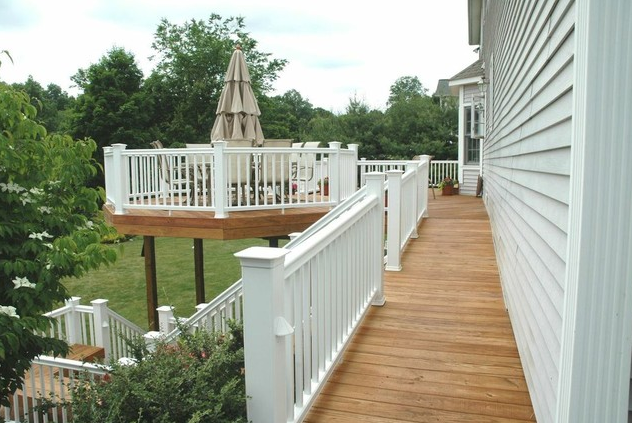 The concept of outdoor living has never been more popular among homeowners in Riverside, Belle Haven, Greenwich, New Canaan, and Darien, as families strive for a healthier and active lifestyle. The design trend is to combine indoor and outdoor spaces in a seamless way. People appreciate the ability to extend living and entertaining spaces beyond the confines of four walls.
Without a doubt, people are spending more time outdoors – Paul Broadbent of Broadbent Construction.    
Broadbent Construction has seen an increase over the past year for porches, decks, sunrooms, patios, freestanding outdoor fireplaces, and screened in porches.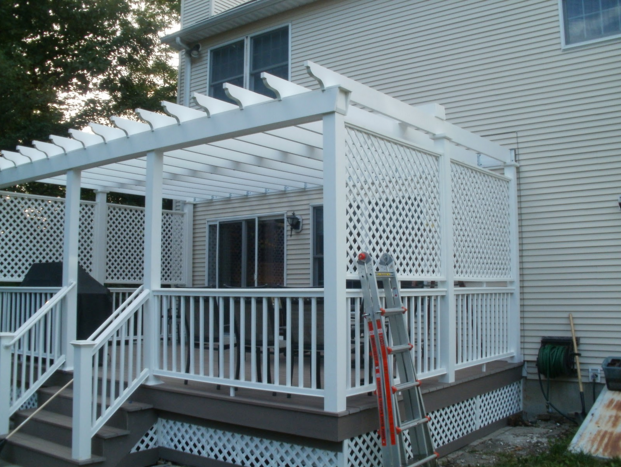 One of our clients recently wanted a deck constructed with pergola lattice work for extra privacy. Many customers are getting away from traditional woods like mahogany for their decking and are gravitating towards composite materials like Trex and Azek.  Composite materials come in a wide variety of colors and styles.  They are low maintenance, mildew resistant and aesthetically pleasing.         
Broadbent Construction has been making outdoor spaces and deck dreams come true in Greenwich, CT for over 27 years!
Broadbent Construction is proud to be a certified AZEK deck building contractor for the Greenwich,CT area.  We have been installing their trim, decking and railing products for the 10 past decade.  We treat all of our customers with the highest level of service.   
Our Deck Building and Renovation Services Include 
Bottom line is that Broadbent Construction realizes the wants, needs and financial constraints of our clients differ. That's why we always produce a unique and customized product.  Our home remodeling services include the following…and more:
Building a New Deck, Porch, Patio or Balcony
Remodeling or Replacing an Existing Deck Porch, Patio or Balcony
Adding a Sunroom, Screened Porch or Covered Porch
Creating Shaded Areas with Gazebos and Awnings
Designing an Outdoor Kitchen
Creating a Design Plan for More Outdoor Space  
   Contact us to set up a consultation and quote.