Browsing articles in "Blog"
Here is a review from one of our clients in Greenwich, CT on Angies list.

Renovation to waterfront property in Riverside, CT.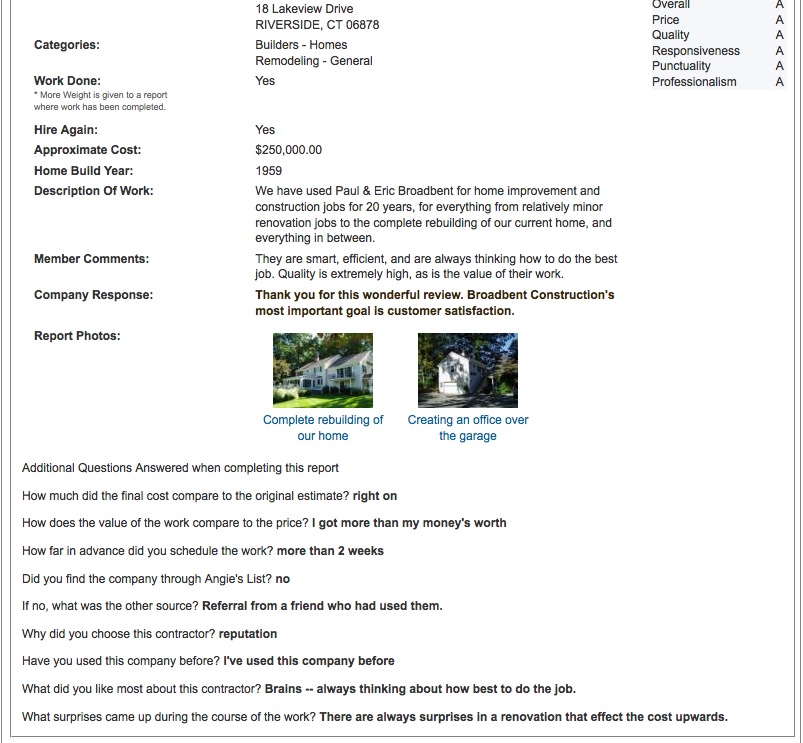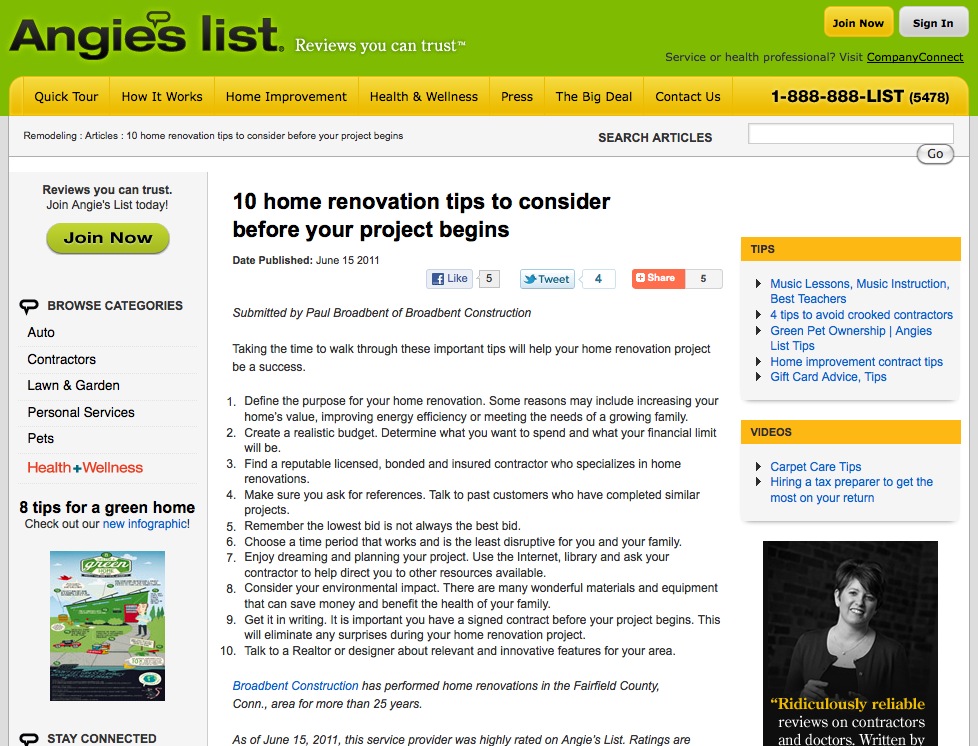 Broadbent Construction was honored have our article published on Angies list.  Here is a link to read the full article.  http://magazine.angieslist.com/remodeling/articles/10-home-renovation-tips-to-consider.aspx
When it comes to choosing a home remodeler,  Greenwich, CT Fairfield County residents trust the experienced professionals at Broadbent Construction Contractors.  Broadbent Construction is a local residential remodeling contractor who has been in business in Fairfield County for the past 27 years.

Broadbent Construction specializes in smaller repairs under $1,000 up to very large additions and remodeling projects above $300,000 with a superior design build experience. We have been in business for a long time because of our commitment to our clients and our commitment to our craftsmanship.
As Greenwich builders go, we're ahead of the curve and are constantly implementing better ways to build with less impact on our planet. We exercise lead-safe work practices and honesty and entegrity in all projects we take on. We can seamlessly integrate the best sustainable design practices with cutting-edge building and construction techniques to offer our clients the kind of detail and execution of their projects they can be proud of. That's why over 90% of our clients have stayed with us over the years.
If you're looking for a home remodeler, Fairfield has the best to offer with Broadbent Construction Contractors. Contact us today to speak with one of our experts and begin your journey to a more beautiful home.
Home remodeling
Interior and Exterior Painting
Siding and Roofing
Insurance Claims Expertly Handled
Lead Safe Work Practices
Carpentry
Our full service residential "design and build" services include: additions and alterations, kitchens, bathrooms, playrooms, sun rooms, decks, master bedrooms.
Home Remodeling

Building Design and Plan Drawings
Additions and Alterations
Authentic Victorian & Colonial Renovations
Contemporary and Post Modern Design
Corrective Carpentry Repairs
Family Rooms and Bonus Rooms
Home Remodeling and Repair
Energy Efficient Renovations
Whole Home Renovations
Windstorm and Ice Storm Roof Damage Repair
Greenwich,CT Builders-Broadbent Construction home builders and contractors for residential construction, home additions, home renovations in Greenwich,CT ,  Darien,  New Canaan, Westport and  the surrounding areas of Fairfield County.
Brothers Paul and Eric Broadbent  have been building and renovating homes in Fairfield county since 1983.
When it comes to single home renovation projects, you don't have to worry about the small stuff.
The fine craftsmanship you've come to expect from Broadbent Construction is also available for smaller projects. Our home repair and maintenance experts apply the same quality, attention to detail, client service and satisfaction to all your home improvement needs, including remodeling, additions, repairs and general maintenance.   We work with our clients early in the planning and design phase to assist in developing project plans and setting realistic budgets. We also maintain a team chemistry that includes the client, sub contractors, architects, interior designers, project manager, and crew in order to provide our residential customers with exceptional quality at an agreed upon price.
Whether it is door that needs fixing, or your deck has some rotting wood, or you want to build new master bedroom Broadbent Construction can handle the job.  Contact for a
free estimate
and consultation.
Your premier Greenwich,CT Contractors. Broadbent Construction is a well established and highly reputable residential construction company.
We have a solid 31 year track record of accomplishment in our Fairfield County residential construction industry serving clients in the Greenwich,CT and surrounding areas.
Our professional construction experience and commitment to excellence in service and our high quality end result have allowed us to create custom home renovation projects for many satisfied life long customers. Broadbent Construction prepares its proposals based on upon what it will cost to deliver your renovation project, exclusive of changes within the market. Since it's establishment over 31 years ago, Broadbent Construction has completed thousands of impressive residential renovations of varying scope and size. Broadbent Construction's mission is to make every construction remodeling job as seamless and successful an experience as possible for our clients.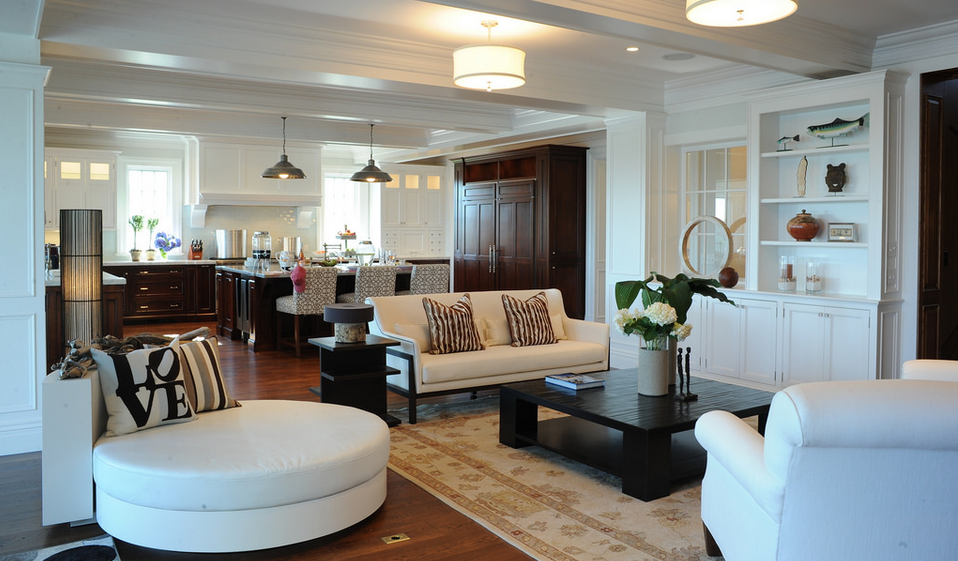 Upon your acceptance of our written estimate, Broadbent Construction puts its guarantee in writing with regard to specific services to be rendered, budget requirement and time of completion. We schedule appointments onsite with our clients including them in all aspects of the building process. This allows you to receive progress updates and having mutual discussion by all parties, which is essential in ensuring that your construction project meets your needs precisely in all aspects.
We take pride in meeting the needs of diverse clients and do not limit our residential construction projects to just an exclusive group of individuals. We are skilled in kitchen and bathroom remodeling, room additions, basement and attic finishing, custom finish carpentry. Each residential construction job that Broadbent Construction takes is done with honesty, pride and distinction, which is exactly what you should expect and deserve.
Exclusive quality craftsmanship is our standard. Contact us to request a free estimate for next construction project. We look forward to the opportunity to provide you with quality custom home building.
Greenwich, a large New England town of 60,000 plus residents, conveniently located on Connecticut's southern border, is within easy access of New York City and the many recreational areas of Connecticut, New York and New England. The 50 square miles within Greenwich's boundaries include a landscape of great variety, from its Long Island Sound shoreline with beaches and offshore islands to its woodlands and open, rolling countryside. Not only has the town's location contributed to its desirability as both a residential community and business center, but it also has shaped its history.
Broadbent Construction has been building and renovating here for the past 25 years. We feel privileged to live in such a nice community. Whether your home is located on Cognewaugh rd, North St, Lake Ave  or Stanwich rd, Broadbent Construction will be happy to help you with your next home renovation project.
When your plans and project require the expertise of a design/build firm.
When it comes to home additions and renovation design in Greenwich,ct and Fairfield County, it's all in the plans. A well-designed and thought-through architectural plan can transform your house, as well as save you frustration and expense. Broadbent Construction offers the choice of in-house custom design-build, or we can work with the architectural and design team of your choice. Our team is highly experienced in collaborating with residential architects throughout Fairfield county to provide the utmost in design, engineering, and functionality. Broadbent Construction custom home remodeling design covers a wide breadth of residential architectural projects.
Our home remodeling design-build process provides both creative aesthetic ideas and cost effective engineering solutions at the most critical time: the design phase. Our goal is to reduce change orders during construction, decrease overall construction time, and keep expenses down for our clients.
Home Additions can enhance the enjoyment of your home. Sometimes you just need more room. More room to relax, hang out, entertain, cook, or store your belongings. A successful addition is also a thoughtful one. Broadbent Construction has expanded and added onto homes throughout Fairfield county for more than 27 years. We take time to think through your home addition project. We take into consideration the consistency of exterior style, the interior flow, the seamless matching of materials. And we think about how your new room addition or home addition is meant to function.Additions can take the form of excavation with a new foundation or building above an existing structure.  Here are some additions that Broadbent Construction can build for you.
Room and home Additions
Master Bedrooms and Bath
Family/Great Rooms
Mud Rooms
Unattached additions
Guest home apartments
Barns and Stables
Garages
Broadbent Construction offers both in-house custom design build home additions and renovations or we can work with the architectural and design team of your choice.
With Broadbent Construction, our goal is to make sure that your addition expands the enjoyment of your home now and for years to come.
One thing you won't have to worry about is additional stress and disruption. We take pride in promptly communicating with our clients and everyone associated with your home addition project, as well as maintaining a safe and clean work environment.
Broadbent Construction is proud to offer our customers detailed high-end finish Carpentry. Whether it be a tongue and groove knotty pine Great room, or a secret hidden closet that has a bookcase as the door. We can make some very custom and creative renovations to your home. our exceptional skilled carpenter contractors have created extraordinary architectural detailing.
Broadbent Construction can create any piece of custom carpentry, molding, or cabinetry.
Match existing cabinetry, molding, or trim
Create crown or baseboard molding designed by you, your architect, or interior designer
Outfit a kitchen, bathroom, library, home office, or mud room with custom cabinets and moldings
Create casts for plaster moldings, medallions, cornices, and decorative trims
Located in Fairfield, CT county, we have both the resources for and the experience with reclaimed barn beams and barn siding.
It's not just the quality of our custom carpentry that sets Broadbent construction apart; it's also our superior service and attention to detail. Before any carpentry, cabinets, or moldings are installed in your home, we provide samples of finishes and design elements.  And when it's all done, your custom carpentry is nothing short of outstanding.
A question we get asked all the time is: 'How much will the house cost per square foot?' The perception (or presumption) is that if you want to add or subtract a few square feet for whatever reason, you can simply add or subtract that amount per foot from the price or cost of the house.
However, in the construction business it just doesn't work that way. For us, it's an impossible question to answer without a lot more info and details, and the answer can only be derived once the house specifications are finished and all costs have been accounted for. It's akin to asking, 'How much does a vacation cost?' without first knowing where you plan to go, how long you intend to stay, and how you're going to get there, among other considerations.
The fact is, the details of every house are very different, and therefore the cost is entirely up to you, not your
home builder
. Only you know how much you can afford and what you want in your new home. It's our job to apply our
expertise
and experience to finely detail your wants and needs and then construct a home that meets (or ideally exceeds) those expectations while remaining within your budget.
That's why it is so important to determine and share your budget with us from the first moment you select us to build your home. Budget information should precede any talk of contracts or actual construction. Using the vacation analogy, we are like a travel agent working with you to plan a trip.
Still, the square-foot cost question persists. So it might be helpful to understand what goes into or affects the cost (or ultimate price) of a home to gain a better perspective or understanding.
First, the costs of similarly sized homes can vary considerably due to their specifications, the type and complexity of the foundation and roof, and many other construction and design specifics that are not directly related to the square footage of the house.
In also, costs including development impact fees and permits or state- and municipality-mandated code requirements can add anywhere from a few thousands to tens of thousands of dollars to the ultimate cost of a new home, regardless of size. Labor and material costs can also vary based upon the time of year, availability and demand for building materials and workers, weather conditions, and the complexity of the project.
The list of variables goes on, and we're happy to discuss them with you and explain how they might impact the cost of your new home. But in our view, asking us up-front what our homes cost per square foot and basing one of the most important decisions of your life on that metric alone would be short-sighted.
We think it's better to have a full understanding of our process and expertise and marry our skills with what you can afford, want and need in a new home to achieve your goals. Visit our
website
for more information or talk with some of our past
clients
.
Broadbent Construction has been investing in dreams and bringing custom remodeling to our customers for 27 years. We've seen dreams go from paper to an amazing finished product . From cramped kitchen spaces to bright spacious work centers – we know remodeling. And when your renovation requires more space for the ever growing family,  Broadbent Construction has the ideas and experience to make those dreams become reality.
Take some time to get your dreams on a napkin and then visit Broadbent Construction to watch your renovation dream take wings. It is what we do! Whether you want to add on that addition for your aging parents or make that master suite a true refuge for you and your spouse at the end of the day, your remodeling ideas and needs can all become a reality with the help of Broadbent construction.
We work with all budgets and will help guide you through your exciting remodeling journey. We are your remodeling expert with return customers, a glowing reputation, along with outstanding proven experience and expertise when it comes to remodeling. So what are you waiting for? Call us today for a free home estimate and consultation. Your dreams are just a remodel away.
Our company knows that great home renovations will add quality of life to you and your family and make it more valuable. So, is additional square footage your need? Are you looking to make your home more energy efficient and healthy? Is it time that you stop putting off that much-needed roof or new siding? Are you ready to add on that dream room with French windows? Whatever the reason may be, we pride ourselves in exceeding our customers expectations when completing a home renovation. In order to make your home renovation project smooth and trouble free. Check out our other blogs on this site
Green Renovations to your Greenwich,CT home large and small: Planet Friendly Options
Going Green in Housing.
The word "Green" has become a hot topic or buzz word in housing in the past few years. It is also an often misunderstood concept that is sometimes interpreted as merely being energy efficient. While "green" does refer to energy efficiency, there is much more to it.
The concept behind a green home is conserving resources. It's an easy concept, with a variety of ways to implement it. And it does not just apply to a new home or condo.
Here are some ways to be green in a typical existing single-family home:
Replace incandescent light bulbs with high-efficiency compact fluorescent bulbs.
Replace kitchen appliances with Energy Star rated ones.
Plant drought resistant grass and plants appropriate to our climate.
Install programmable thermostats that automatically regulate temperature.
Replace heating or cooling systems with new energy efficient ones.
Use window coverings to block the sun to keep the interior of the home cooler.
Install an attic fan that uses fresh air to cool the home.
Reduce drafts with caulking and insulating.
Here are examples of green features to look for in a new home construction:
Energy Star ratings designating that the home is designed for energy efficiency.
The home is positioned on the lot to take advantage of the sun's warmth (passive solar energy).
Recycled materials in its construction (this can be anything from siding to stone to old doors).
Low maintenance finishes with long service lives.
Low volatile organic compounds (VOC) paints and finishes, which release fewer contaminants into the air.
Composite products used instead of traditional wood.
Sealed combustion heating systems which draw air from the outside and stop air infiltration. Some new systems are about 96% more efficient than older units.
Drought resistant plants and shade trees so less watering is needed.
These are just a few examples of what it means to be "green" in residential housing. There are a lot of things that all of us can do. While some of these may seem small, the implications of many people doing them are simply enormous. Everybody needs to learn to live on this planet in a more sustainable environmentally friendly manner.
Easy Ways to Cut Your Electric Bill
As a home builder, I am always looking for ways to do things more efficiently. These days everyone is looking for ways to save money. With the rising cost of energy, it makes more sense than ever to conserve electricity and it's easier than you think. Besides switching off lights that you aren't using, there are several other painless methods to conserve energy and save money on your electric bills. Many of these ideas are fairly simple to do.
Plugs
Look at all your electronic devices, especially those with digital time and date displays that are used infrequently such as alarm clocks, TVs and VCRs in a guest room and unplug them.
Unplug devices used to recharge electronics/batteries when they're not being used.
Transformers consume energy. Consider unplugging devices like calculators that are not in use.
Appliances
Wait until you can fill up your dishwasher before running it. And if you have a heated-dry option, switch it off. Prop open the door a bit after the cycle to air dry your load.
If you have an electric cooktop, turn the burners off a few minutes before the allotted cooking time. The heating element will stay hot long enough to finish the cooking without using more electricity.
Refrigerators
Refrigerators use more power than any other appliance in the home and deserve special attention. Although rushing out to buy a new refrigerator may not be in your budget, it is important to know that new models are more efficient and use as little as half the electricity of older units.
Full refrigerators run more efficiently than ones that are only partially full. So buy more food and save some energy.
If you have two refrigerators, or an additional freezer, decide if the extra expense is really worth it. Cram as much as you can into your primary refrigerator or consider disposing of two older refrigerators and replacing them with one larger, newer and more efficient model.
Make sure the refrigerator door seals are tight. Test them by closing the door over a piece of paper or a dollar bill so it is half in and half out of the refrigerator. If you can pull the paper or bill out easily, the latch may need adjustment or the seal may need replacing.
Place food and liquids in airtight containers. Uncovered foods release moisture and make the compressor work harder.
Move the refrigerator away from the wall and vacuum its condenser coils yearly unless you have a no-clean condenser model. Refrigerators will run for shorter periods with clean coils.
Maintain a consistent temperature in the refrigerator and freezer. Recommended temperatures are 37 to 40 degrees Fahrenheit for the fresh food compartment of the refrigerator and 5 degrees Fahrenheit for the freezer section. If you have a separate freezer for long-term storage, it should be kept at zero degrees Fahrenheit.
Lighting
It's obvious, but true: Turn off lights that are not being used. Consider installing timers or photo cells on some lights. And instead of constantly nagging the kids, try occupancy sensors that turn on and off automatically when someone enters or leaves a room.
Rather than brightly lighting an entire room, focus the light where you need it. For example, use fluorescent under-cabinet lighting for kitchen sinks and countertops
Consider dimmer switches and three-way lamps. These provide low light levels when bright lights are not necessary.
Use linear fluorescent and energy-efficient compact fluorescent lamps (CFLs) in fixtures throughout your home to provide high-quality and high-efficiency lighting. Fluorescent lamps are much more efficient than incandescent bulbs and last six to ten times longer. Although fluorescent and compact fluorescent lamps are more expensive than incandescent bulbs, they pay for themselves by saving energy over their lifetime.
These are some ways that homeowners can reduce their energy consumption and ultimately their energy bill. Check out our website for more information.
http://www.broadbentconstruction.com/
Broadbent Construction service areas:
Fairfield County
Cos Cob
Danbury
Darien
Fairfield
Greenwich
New Canaan
New Fairfield
Norwalk
Old Greenwich
Riverside
Stamford
Trumbull
Westport
Wilton
List of Services offered by Broadbent Construction